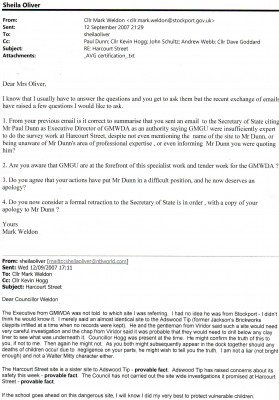 I attended an Executive Meeting at Stockport Council. Coincidentally, two gentlemen from Waste Disposal Experts firm Viridor were addressing the meeting. After the meeting I approached the gentleman, told them the Council was planning to put a new primary school on a still gassing toxic waste dump, a former Jackson's Brickyard site. They expressed their doubts to me and pointed out that Greater Manchester Geological Unit were not expert enough to deal with this matter. I don't think Ex Councillor Weldon felt I as a mere council taxpayer should have been allowed to approach these gentleman. I felt I would know if I was on the right track with my worries if I discussed it with them.
Because Ex Councillor Weldon and his political cohorts refused to listen to how dangerous the site was, I wrote to the Secretary of State, who had to determine the application, explaining the dangers of this still gassing toxic waste dump site for such an end use.
Greater Manchester Geological Unit declared the site safe to develop with minor remediation including the fencing off of toxic hotspots by means of prickly bushes. They didn't comply with BS 10175 as they should have done, as they didn't investigate under the football pitch which covered most of the site.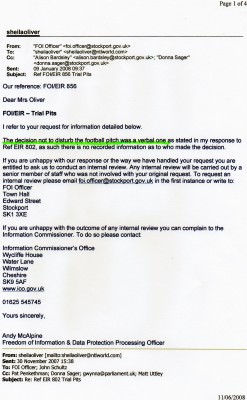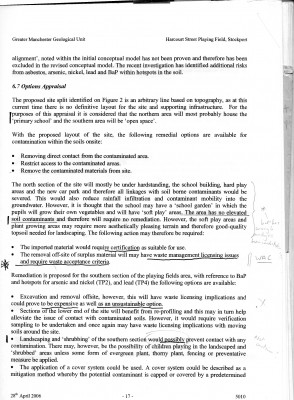 When the Council was forced to do proper contamination investigations in late 2009 because they had to prove to a diversion of footpath public inquiry that the footpaths were not being diverted into areas of contamination, the investigations found the site to be entirely contaminated with lead, arsenic and brown asbestos.
To confirm my conversation with the Viridor chaps, GMGU admit in an email to Stockport Council they are not experts at dealing with airborne toxic contaminants, such as the brown asbestos which was subsequently found on the site.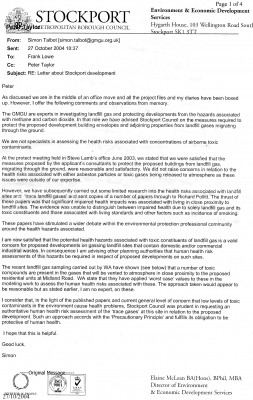 So I was correct all along, and all I wanted to do was protect children from this ludicrous plan to put a new primary school on a still gassing toxic waste dump. Weldon snarls that I should write to the Secretary of State correcting what I wrote, when it was correct at the outset.
Sister sites – which is why I was concerned and why the chaps from Viridor expressed doubts: