On line Safety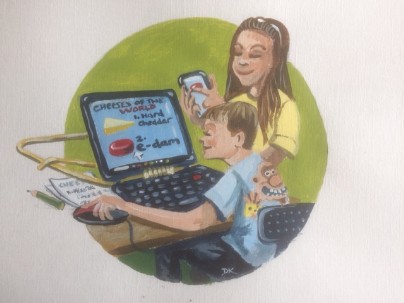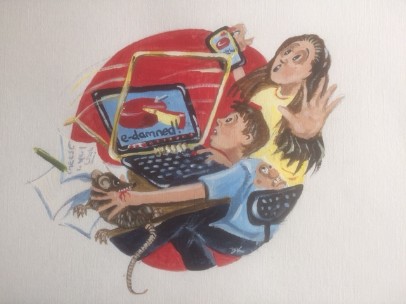 Above images by David Kelsall
davi.dkelsall@live.co.uk

Many thanks to Peyton, who kindly sent me this link from hotspotshield:
https://www.hotspotshield.com/resources/digital-citizenship-internet-safety-for-kids/
"How To Keep Children Protected Online: Internet Safety For Kids"


And again thanks to Peyton who also sent me this link:
https://couponfollow.com/research/shop-safely-online
"Shop Safely Online with Cybersecurity Information."
https://wikibuy.com/blog/parents-guide-online-shopping-safety-22933a00aacd
"Shop Safely Online with Cybersecurity Information."

https://www.top10vpn.com/childs-online-safety-guide/
"The Complete Guide to Protecting Your Child's Safety Online in 2018"

https://securitybaron.com/blog/social-media-cyber-security/
"Social Media and Cyber Security"
https://householdquotes.co.uk/keeping-children-safe-online/
"Guide to Keeping Children Safe Online (Updated for 2018)"
https://www.bestvpnrating.com/guide-children-privacy
"The most common threats children can face online in 2018"




https://www.vpnmentor.com/blog/the-ultimate-parent-guide-for-child-internet/
"The Ultimate Guide to Protecting your Child on the Internet"

"Digital citizenship, online safety and civility"

http://www.sec.gov/investor/pubs/phishing.htm

""Phishing" Fraud: How to Avoid Getting Fried by Phony Phishermen"

https://www.netsafe.org.nz/how-can-i-put-parental-controls-on-my-childs-mobile-phone/

"Parental controls on devices"

http://kidshealth.org/en/parents/cyberbullying.html
Cyberbulling including sexting, social media etc

http://www.ozicare.com.au/life/insights/digital-safety-for-kids
"How to keep children safe online"

https://www.moneysavingpro.com/internet-providers/internet-safety-for-kids/
"Internet safety for kids. A Guide for Parents, Carers & Educators"
http://www.attinternetservice.com/kids-internet-guide/
"Having fun on the internet
The Internet is a cool place to learn new things, play games and connect with friends and family.
Billions of people around the world use the Internet just like you!"

https://www.creditcards.com/credit-card-news/how-check-childs-credit-report-1270.php
"How to check your child's credit report
The presence of one could signal identity theft"



"VPNs and proxy services offer some similar features, but with major differences in versatility and security. VPNs vs Proxy will explain these differences and help you make the right choice for your needs."

"How to Hide My IP Address"

https://usinsuranceagents.com/home-online-safety

"Home Safety: Keeping Your Kids Safe Online"

https://www.attplans.com/resources/internet-safety-guide/
"Sammy's Guide to Internet Safety"
https://www.wizcase.com/blog/a-comprehensive-cyberbullying-guide-for-parents/
"A Comprehensive Cyberbullying Guide for Parents."
"A Guide to Keeping Children Safe Online (A Good Read For Non-Techy Parents)"

https://www.directvdeals.com/resources/internet-guide/


Wise advice from Watson the Walrus.

http://internet.frontier.com/resources/parent-teacher-internet-guide/
Have fun and keep safe with Ernest the Owl.

https://www.bestvpnrating.com/guide-children-privacy
"A Guide to Protecting Children's Privacy Online".

"Protect your and your childrens' identity when you travel."

https://www.inpatientdrugrehab.org/cyberbullying-substance-abuse/
"Cyberbullying & Substance Abuse"

https://online.maryville.edu/blog/what-is-cyberbullying-an-overview-for-students-parents-and-teachers/
"What Is Cyberbullying? An Overview for Students, Parents, and Teachers."

"E Safety Guide for Parents & Kids to keep kids safe Online."

https://yourgeardeconstructed.com/parents-internet-safety-security-screen-time-guide/
"The Parents Guide to Internet Safety, Security and Screen Time for Kids".

"Cyberbullying: The Full Guide For Parents, Children & Schools".

"How to Keep Children Safe in Cyber Space – An Updated Guide For Parents."

https://cooltechzone.com/internet-safety-guide

"Internet Safety for Teens, Kids, and Students."

https://www.safety.com/best-kids-search-engines/
"Best Kids Search Engines to Ensure Safety Online."

https://www.premierchoiceinternet.com/online-privacy/
"The Definitive Guide to Internet Privacy & Online Security."

"Keeping Children Safe Online."

https://bestcellphonespyapps.com/smartphone-and-social-media-safety/
"Smart phone and social media safety."


https://edubirdie.com/blog/dealing-with-cyberbullying-guide-for-parents
"Dealing with Cyberbullying. Guide for Parents."