I was, of course, being "vexatious" according to Mr Majothi, who just wants a quiet life.
This is the current state of drainage on the site.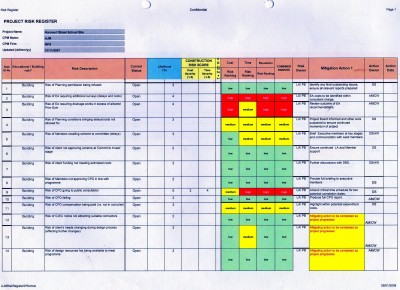 Email sent – 23 August 2009 13:06
Dear Mr Majothi
Attached is the Harcourt Street Risk Register – the last one I was allowed to see before the strange ban was put back in place. You will see the high risk of costs and delay (in red) presented by the issue of drainage and contamination remediation.
I asked under the FOIA the estimated drainage and contamination remediation costs, to be told they were impossible to work out at that point. A short time later those figures were put before the Executive Meeting. I asked to see how those figures were arrived at. This was, of course, refused under the strange ban imposed.
What is worrying – especially post Corby – is that not one contamination pit was dug over the proposed site of the school, which is directly over the old tip intensively tipped from 1954 to 1974. The Council states it has complied with BS10175 in regards to this. It hasn't!
Have the contamination remediation costs been properly worked out or was the figure put before the Executive for drainage and contamination remediation (which could cost millions) merely plucked out of thin air?
I look forward to hearing your comments
Yours
Mrs Sheila Oliver
Stockport's Freedom of Information Campaigner