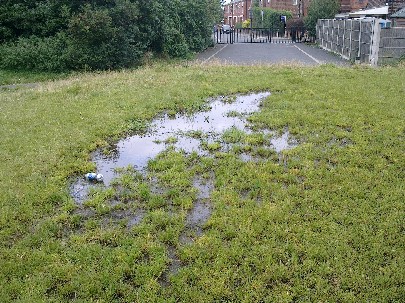 Corrupt LibDem Stockport Council (not Mr Vali) says all questions about drainage at this site are "vexatious". We need to be free of LibDem councillors who embrace corruption in planning.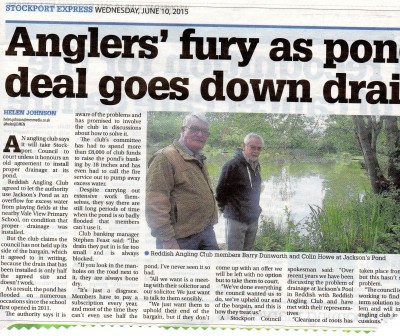 http://www.manchestereveningnews.co.uk/news/greater-manchester-news/angling-club-threatens-take-stockport-9424885
(Please copy and paste this link into your browser).

I have been asking and asking questions about drainage at the toxic waste dump school site in North Reddish for years and in recent months too, but have been branded "vexatious" for raising this issue. At the same time problems have been raised by other concerned parties about the drainage on the site. The is a recently disturbed toxic waste dump over an important aquifer and draining into a fishing pond. The brown asbestos was not properly removed from the site, but Dave Westhead, the Council's Enforcement Officer, wasn't concerned and didn't take any action.

"An angling club says it will take legal action unless a council honours an old agreement to install proper drainage at its pond.
Reddish Angling Club agreed to let Stockport Council use Jackson's Pond as an overflow for excess water from playing fields at the nearby Vale View Primary School, on condition that proper drainage was installed.
But the club claims the council has not held up its side of the bargain, which it agreed to in writing, because the drain that has been installed is only half the agreed size and doesn't work.
As a result, the pond has flooded on numerous occasions since the school opened in 2011.
he authority says it is aware of the problems and has promised to involve the club in discussions about how to solve it.
The club's committee has had to spend more than £8,000 of club funds to raise the pond's banking by 18 inches and has even had to call the fire service out to pump away excess water.
Despite carrying out extensive work themselves, they say there are still long periods of time when the pond is so badly flooded that members can't use it.
Flooding caused by poor drainage at Jackson's Pond, home of Reddish Angling Club
Club banking manager Stephen Feast said: "The drain they put in is far too small and is always blocked.
"If you look in the manholes on the road next to it, they are always bone dry.
"It's just a disgrace. Members have to pay a subscription every year, and most of the time they can't even use half the pond. I've never seen it so bad.
"All we want is a meeting with their solicitor and our solicitor. We just want to talk to them sensibly.
"We just want them to uphold their end of the bargain, but if they don't come up with an offer we will be left with no option but to take them to court.
"We've done everything the council wanted us to do, we've upheld our end of the bargain, and this is how they treat us."
A Stockport Council spokesman said: "Over recent years we have been discussing the problem of drainage at Jackson's Pool in Reddish with Reddish Angling Club and have met with their representatives.
"Clearance of roots has taken place from the pipe but this hasn't solved the problem.
"The council is currently working to find a longer-term solution to the problem and will involve the angling club in these discussions."
Tim Farron informed response received 22/7/15 at 17.16
——————————————–
Thank you for your e-mail. This acknowledgement has been
triggered electronically as I have not yet had a chance to read your message.
I receive a large number of letters and e-mails every day
and I aim to respond to everything as soon as I can.
I try to handle everything quickly and efficiently, but
complex issues may need time so please do not be disappointed if you do not
receive an immediate reply.
I will be in touch as soon as I can.
Best wishes,
Tim Farron
Tel: 01539 723403
Fax: 01539 740800