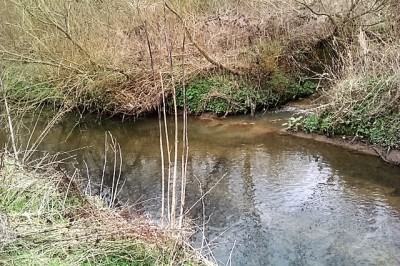 One snap showing brown filth taken from bridge; it's clearly raw sewage which as
brook drops will turn light grey. It's all down from before Sandringham bridge.
Extensive
products debris on brook bank waterline. High water levels – sanitary products and condoms left
behind by waters departing carrying sewage discharged into our environment.
What else is present we cannot see? Why is this allowed unabated?
Storm
overflows on combined sewers designed to carry sewage away to brooks streams on
hard rain. Intensive building on inadequate sewers, more run off from roads etc
means sewers cannot cope and increasingly sewage getting into environment.
Witness observation:

Used
condoms which reach alarming proportions in sewers.
Peel
off strips from sanitary towels glue backing.
Plastic
leak barriers of sanitary towels.
Entire
outer casing of winged sanitary towels/incontinence pads possibly from size.
Baby
or cosmetic wipes.
Larger
surgical wipes coloured brown have fabric appearance maybe hospital draw pads.