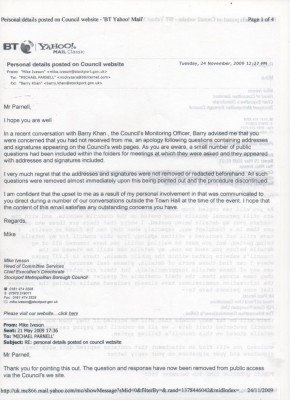 Stockport Council posted up the names, addresses and signatures of council taxpayers on their website. They were told of the serious Data Protection offence on a Thursday evening in the full council meeting by an affected council taxpayer. It was publicly broadcast at that meeting that this information was available. Despite this the Council refused to act until the following Monday, when other affected people contacted the police and the Information Commission.
During that weekend Mr Parnell was arrested three times for trying to have his name, address and signature removed from the council website. Only in dodgy Stockport could such a thing happen.
Here is the video of him trying to report an offence. And he was arrested for it.
http://www.sheilaoliver.org/arrested-for-trying-to-report-a-data-protection-offence.html