I paid for the LibDems in Stockport to have an apprentice (I didn't want to).
That apprentice has been used for political campaigning, cold telephone calling, preparation of election leaflets and knocking on doors. Should he have been? It is certainly not how I want my money spent.
Despite Councillor Derbyshire's letter below, £2,000 was paid over by Stockport Council to Hazel Grove LibDems for this apprentice.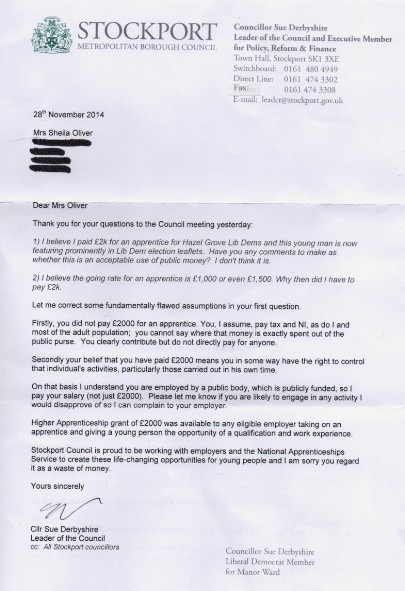 "Commenting, Lisa Smart, Liberal Democrat Parliamentary Candidate for Hazel Grove said –
"Stockport businesses are already doing their bit for our young people by taking on over 200 Stockport apprentices in 100 days! The response to Andrew's campaign really was phenomenal so we thought we should do our bit too.
"I'm delighted we were able to take on Conor and offer him a full time apprenticeship in the Romiley office. He's a great help and learning the ropes really quickly, we hope he enjoys the apprenticeship as much as we enjoy having him around!"
Stockport Council has announced its next Apprenticeship Campaign which will aim to secure 50 apprenticeships in 50 days, awarding every employer who chooses to take on an apprentice £1,000.
To find out more, ring Alison Cresswell at the Council on 0161 474 2350 or visit
http://www.stockport.gov.uk/services/education/educationtrainingandemployment/apprenticeships/stockport5050apprenticeshipscheme/
Or for more information on National Apprenticeship Week 2014 visit –
http://www.apprenticeships.org.uk/awards/apprenticeship-week-2014.aspx
Conor's diary – a week in the life of a campaign apprentice.
We asked our new apprentice, Conor, to keep a diary of his week, to tell you all exactly what you can expect as an Apprentice. Nineteen-year-old Conor began a Level 4 Apprenticeship in Business Administration this year and is working with the Liberal Democrats in Hazel Grove.
Day 1
Today I'm down in London for the last day of a training course on how to take pictures and write leaflets. I've never been to a training session like this before but everyone's really nice and friendly. I think I'll learn a lot more about what the job entails.
Day 2
Today I have a long list of work, and I've been told there'll be thousands of leaflets delivered this afternoon. It's all part of a new challenge and there certainly seems to be a lot of paper involved.
I have also learnt how to enter data efficiently and order leaflets, which will make my job easier later in the week.
Day 3
Today I've been given the task of managing volunteers for our phoning evening – we get lots of really nice volunteers to call people and ask them if they have any problems and how we can help. I've learnt a lot about managing volunteers, as well as how to set them up on the computers and talk them through what they'll be doing.
We do it till about 8pm so I'm working late and will take a break later in the week to make up for it. I'm really enjoying the variety of the job and having responsibility over making the evening successful.
Day 4
Volunteer management is a big part of what I'm learning and today is our clerical day. It's excellent, particularly the cake.
It's really nice working with so many people that give up their time because they believe in something.
Today we're putting leaflets in bundles for volunteers to deliver. It's not that complicated but it's really important that they don't get mixed up so I have to keep an eye out for that! Making sure people have a lovely time is a big part of it so I'm going to spend most of my day practicing that part of my volunteer management.
Day 5
Today is a Friday and it's time for door knocking somewhere in the constituency, rain or shine, as I've found out.
I was slightly nervous about people's reaction but Lisa Smart and the Lib Dems seem to do such a good job round here that most people are very happy to see me. We had a really nice time and took back a few problems, potholes and things that Lisa will try to get fixed for people."