Email sent – 2nd August 2015 08.58
Dear Home Secretary
I wish to submit evidence to the deaths in police custody
inquiry.
This is concerning Cheadle Heath Police Station at Stockport
where two people have died in custody as I understand it.
Mr
Michael Stuart Parnell RIP – a man Inspector Clitherow of Stockport Police has
admitted in writing was completely innocent – was repeatedly held in custody at
Cheadle Heath . The experiences terrified him and he attempted suicide
there. He did not die there – he died sometime later aged just 58.
You might want to have a look at which police officers were
on duty this night and see if they were on duty the other times people died in
custody.
Mr Parnell was used to death threats, beatings, offensive
language and other threats on a daily basis in his dealings with Stockport
Council. Video evidence below:-
https://www.youtube.com/watch?v=RpglhgaXpmw
https://www.youtube.com/watch?v=5NHpyKSvnjg
Mr Parnell was used to being set up, arrested and imprisoned
for offences/crimes that hadn't taken place:
https://www.youtube.com/watch?v=8YY4dhCpcKk&feature=youtu.be
On this occasion below Mr Parnell was sent to prison for an
offence that Stockport Council, Stockport Police, Stockport CPS and Stockport
Magistrates Court knew hadn't taken place. They had CCTV to prove it
hadn't taken place but that was not allowed to be shown at his original
trial. It was later shown at his three day Manchester Crown Court appeal
and he was acquitted of the ludicrous offence of assault with a sneeze:
https://www.youtube.com/watch?v=FA34fyU1eds
Absolutely nothing happened – no assault – nothing.
Mr Parnell was sent to prison for this offence – a very sick
man. His council protest was in trying to get counselling help for
his lovely, troubled daughters adopted from Stockport Council. The
prisoners at Forest Bank knew his case involved children and because he was
such a sick man he was taken straight to the prison hospital. The other
prisoners believed him to be a paedophile and he was treated accordingly.
In time the other prisoners came to like and respect him, as did the prison
officers, and believe in his innocence. They thought the councillors,
senior council officers, senior police and CPS officials were scum, and who can
argue with that interpretation?
Mr
Parnell was finally released due to his ill health but had to endure two years
8am to 8pm house arrest. He couldn't even attend his dentist. He was
banned from entering the centre of the town, wasn't allowed to attend medical
appointments: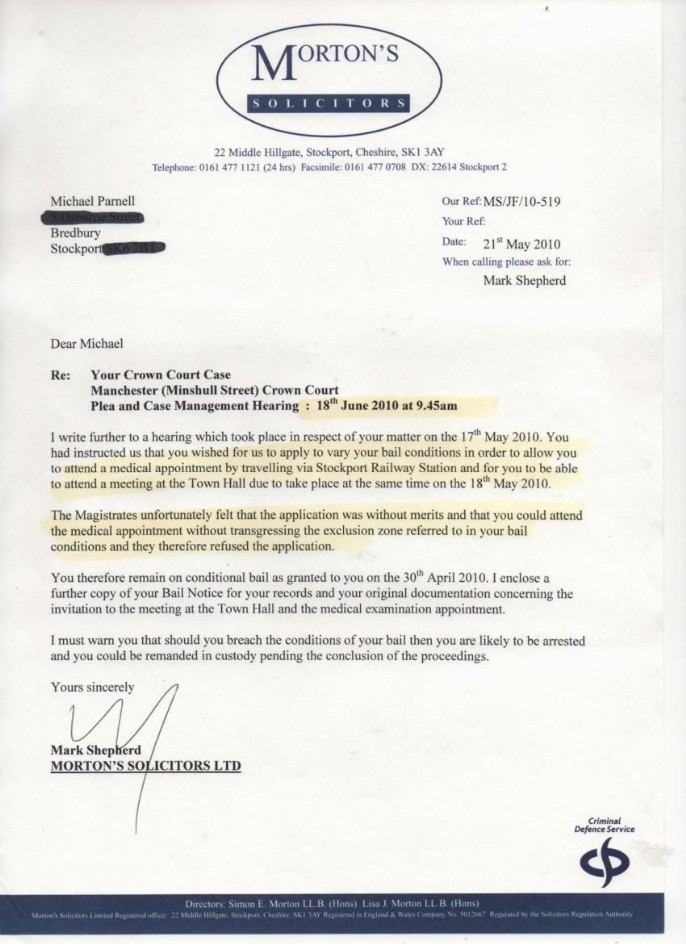 These are just some of his custodies and arrests – a man
admitted by Inspector Clitherow to have been completely innocent:
http://www.sheilaoliver.org/custodies,-arrests,-imprisonment.html
Mr Parnell just wanted counselling for his lovely daughters
who had had a terrible time with their birth parents. A simple request.
One of the girls had the wrong details on her birth documents so if he took her
to A & E she didn't exist. After 10 years of being ignored by
Stockport Council (it is how they operate) he decided to stand on the Town Hall
steps until someone helped him. He continued to be ignored until Dave
Goddard became leader – a man named under Parliamentary Privilege as a cohort
of a notorious gangster by Andrew Bennett MP. The gangster was Douggie Flood, a
member of the Manchester Quality Street Gang. Mr Flood's family in a
court case over his estate admitted that their father had indeed been a
gangster.
When
Goddard became Leader the vicious treatment of Mr Parnell began. Can't we stop
him protesting he is stated as saying in the Council Log:-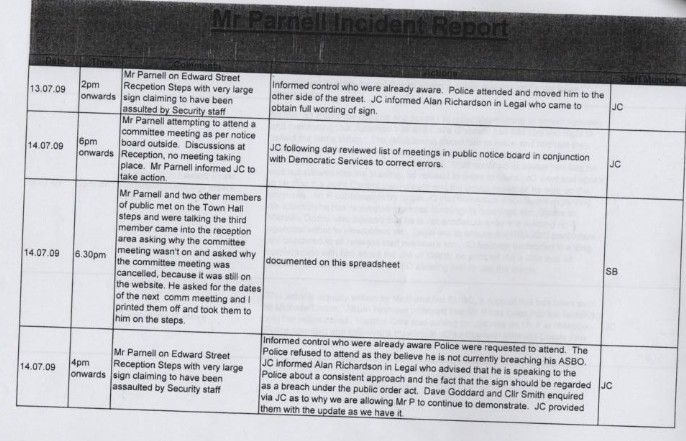 Mr Parnell attended every council meeting when he was not in
custody or in prison to beg for help for his family. Their only response
was to arrest him for things like trying to leave a council meeting early or
using the town hall loo. I can proved he attended these meetings to beg
for help and Stockport Council had a legal duty to provide it to him: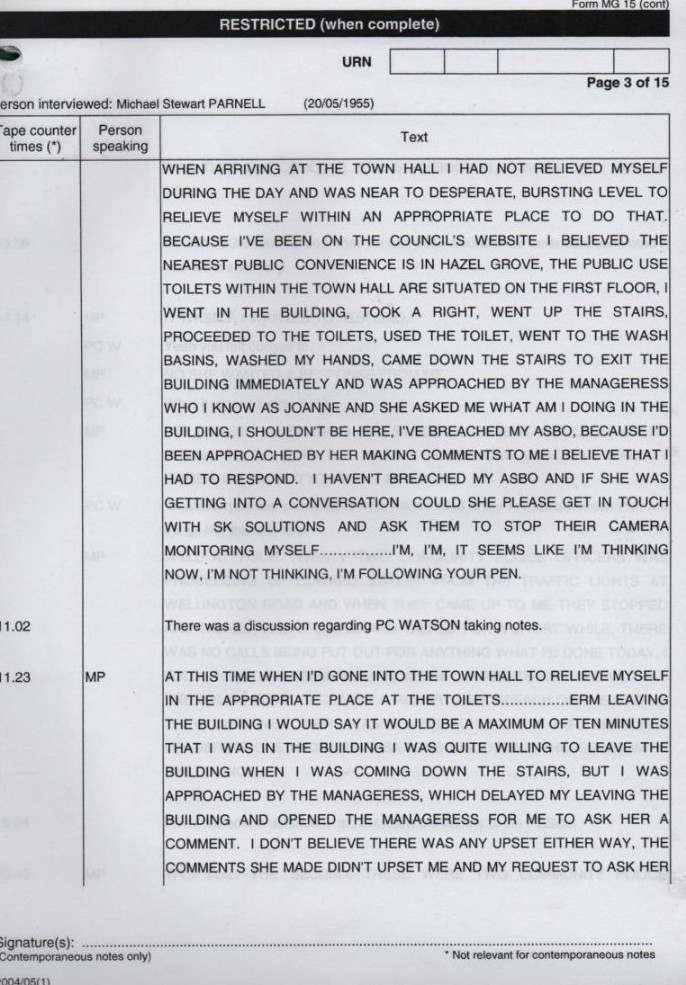 http://www.sheilaoliver.org/begging-stockport-council-for-help.html
In addition, I was writing to the Council every day to beg
them to stop this treatment of a sick, innocent man who was only asking for his
legal right to counselling for his children. The corrupt council officer tasked
with sorting out his problem and who did nothing reported me to the Information
Commission for nuisance contact with the Council. I offered to work
on Mr Parnell's behalf to sort out his simple problem but they refused to let
me. His local MP, a useless man at the best of times, refused to
challenge the actions of his political cohorts.
How did Councillor Goddard, on the Police Authority, get to
waste possible 1000s of police man hours on a personal vendetta against an
innocent man he had a legal duty to help and he was paid to help. He has
now been elevated to the Peerage, yet Nick Clegg was fully informed of what he
had been up to. How can such a lawbreaker have been elevated to the
position of lawmaker? Would we have such a terrible situation in
Manchester currently in gun crime etc if Fahy had used those valuable resources
to tackle crime instead of acting as henchman for his ?Masonic chum Goddard?
After Mr Parnell's acquittal they continued their vicious
treatment of him unabated. When I hounded the Chief Constable Fahy about
the waste of police time, eventually he stopped arresting Mr Parnell but he
allowed the police to continue to attend the ludicrous council call-outs.
It will be a good day for the people of Greater Manchester when he
leaves. When they could no longer have him arrested, the Council
falsified council tax arrears and continued to hound him that way with constant
court cases and, again, it will be a good day for Stockport when our
Magistrates Court closes, as then grubby and corrupt local politicians won't be
able to use the courts as their henchmen. The Council even hounded him whilst
terminally ill in Intensive Care over £24 he didn't own in the full knowledge
of the seriousness of his condition.
So, although Mr
Parnell didn't die in police custody at Cheadle Heath, he did attempt suicide
there and of all the terrible things that happened to him done by
corrupt-at-the-top Stockport Council, being in custody at Cheadle Heath Police
Station scared him the most.
Yours sincerely
Sheila Oliver
c.c. to Tim Farron LibDem Leader 2/8/15 08.58, although he had been informed of this dozens of times previously and took no action.
Tim Farron received this email. Will he finally take action and expel Stunell, Goddard, Derbyshire, Pantall, Candler, Meikle, Roberts, Derbyshire et al from his party? Only if he is an honest man.